Carbon graphite products are the foundation of solar photovoltaic industry and both are interdependent. carbon graphite is applied to polycrystalline silicon pv modules、monocrystalline silicon pv modules in the photovoltaic industry. due to the properties of better density、hardness、compressive degree and very good high temperature resistance, high pressure resistance, corrosion resistance, good electrical conductivity, stable performance, etc, carbon graphite material can be made to the heating container--graphite crucible which can be used graphite hot zone of silicon ingot manufacturing etc.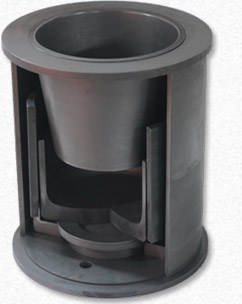 Because the market of photovoltaic industry is dominated by policy,so the key to reduce the cost is the graphite materials chosen. if the graphite material is not ready, it is difficult to improve the photoelectric conversion efficiency and reduce the cost. and if graphite material has low purity, too many impurities, then the quality of the chip is not guaranteed, so the result is efficiency of solar cells can not have a lift.
XRD Graphite Manufacturing Co.,Ltd supplies high purity graphite, high strength graphite, high quality grpahite, and provide best customer service.