Graphite Machining Types
Carbon graphite is used in mechanical applications due to its strength and hardness. Carbon graphite has a lower level of heat resistance and conductivity than graphite.
Extruded graphite has relatively fine grain size, and has good mechanical, electrical and thermal properties, with a preferential grain orientation and low ash content. Density, mechanical strength and oxidation resistance can be improved by means of further impregnation.
EDM graphite is an important component of electrical discharge machines. The use of graphite causes less wear and tear on the EDM electrodes and removes metal quickly and efficiently.
Graphite bearings are often used in load capacity systems along with graphite bushings.
Graphite composites are beneficial because they are lightweight, yet strong and durable. Graphite composites are used in the automotive, airplane, and aerospace industries to provide structural support and reinforcement.
Graphite crucibles are used to store materials and samples during fusion and other mixing processes.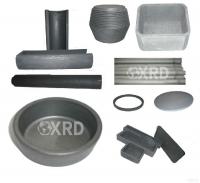 Graphite design produces many products from machined graphite.
Graphite electrodes are used in ladle furnaces and electric arc furnaces. Graphite electrodes are advantageous for their high conductivity and performance under high temperatures.
Graphite fixtures consist of packaging fixtures and sealing fixtures. Graphite fixtures are used in the automation and semiconductor industries.
Graphite machining is the process that produces parts out of synthetic graphite materials.
Graphite rods are used in the fiber optics and semiconductor industries to produce a wide variety of machine components, including dies, spindles, and chucks.
Graphite tubes are used in furnaces because of graphite's low heat sensitivity. Graphite is also used in the production of fluxing tubes used in the metal manufacturing industry; other industries using graphite tubes include chemical and scientific industries.
Isostatically pressed graphite is an especially fine grain, dense, isotropic graphite, which can be produced in large dimensions.